CONGRATULATIONS TO SHANNON R!!!
YOU ARE MY GIVEAWAY WINNER!!!
I know it's difficult to believe but spring is just around the corner! Whether you love to putter in your garden, get by doing only the basics, or just relish the cookouts ~ you will still spend time outside. Here's a tip that will make your time outdoors much more enjoyable.
Plant a few pots of Lemon Grass – also known as Mosquito Grass. Here are a few reasons why:
1) Lemon or Mosquito Grass contains more citronella than the Mosquito Plant. The strong citrus odor drives mosquitoes away.
2) The plant is beautiful and serves as a great patio plant.
3) Lemon Grass is used in the cooking of Oriental cuisine, adding a light lemony taste.
4) The Lemon Grass is a fast-growing clumping grass that is ideal for containers.
A perfect addition to any garden or patio. Pretty to look at, keeps the mosquitoes at bay, and is a wonderful cooking herb!
**********************************************
Stop by each blog and pick up a great gardening tip or recipe.
GRAND PRIZE IS~
An ereader of your choice (up to $200 value)
2nd Prize is ~ a $25 gift card to the eBook retailer of your choice
In order to be eligible for the grand prize, visitors must hit each and every author on the hop.
So stop by the blogs and enter each individual contest! You can't win if you don't enter!
For my contest please follow:
Make sure to come back here and leave a comment when you have finished. That enters you in my giveaway and the Grand Prize giveaway. My giveaway winner will be selected through Random.
The winner of my giveaway wins an eBook copy of one of my books ~ winner's choice!!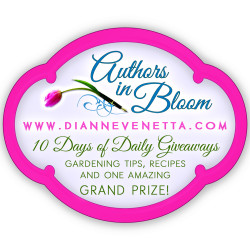 Also include the code for the entire linky list at the end of your post to help facilitate the hop: